See the  photo gallery at the bottom of the page for
some truly amazing photos of butterflies and moths taken by Brian Cartwright  at Longstock Buddleja Collection August-September 2019  and July 2020  and Richard Loader in 2018
Buddlejas and butterflies
Buddlejas are renowned for their attractiveness to butterflies; B. davidii, the legendary 'Butterfly Bush' and its cultivars rich in the sucrose nectar beloved by the insects.  In the UK, it is mostly a group of butterflies known as the vanessids which are attracted to the shrub; this include the Peacock, Small Tortoiseshell, Red Admiral, and Comma and, in summers favourable to migration from the continent, the Painted Lady.
Various whites and browns are also drawn, but it is the more colourful vanessids which make the most impact, the flowering of B. davidii coinciding with their main summer emergence.  Single-brood species such as the Peacock will gorge themselves on sucrose as quickly as possible before vanishing into hibernation at the very height of summer.  For those fortunate enough to live near woodland, other species such as Silver-washed Fritillaries may also be seen, whereas on the continent the many other fritillaries and swallowtails indulge.
However, B. davidii in all its forms is not an unqualified success; the corolla tube of the bush, at around 12mm long, is too deep for the proboscis (the feeding tube coiled under the head) of the smaller butterflies such as the blues and skippers, which favour Hebe, marjoram, and lavender. Moreover, even with assiduous deadheading, the flowering season of B. davidii is not a long one, but gardeners near the coast or possessed of a south-facing wall can safely plant B. officinalis and B. auriculata, both hardy down to -10°C, to provide sustenance for butterflies on the wing in spring and autumn respectively.
With so many B. davidii cultivars on offer, much debate surrounds the favoured colours, some arguing that the pastel shades are preferred, while others opt for the more strident purples and violets. Whatever all will attract butterflies.
Andrew Brookes
Hampshire Butterfly Conservation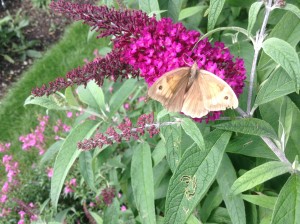 My experience with Buddleja and butterflies – B. 'Royal Red' is still very good and so is B. 'Lochinch'; B. x weyeriana 'Sungold' was by far the best last Sept/Oct because I pruned it a bit late and it flowered late and long (12-14 weeks?). B. 'Silver Anniversary' still works well later in the year.  I think in all honesty that a good plant, with plenty of flowers at the right time and in a location where the butterflies are not battered by the wind is probably the best at attracting them.
I am not totally convinced that different cultivars are that much better than others from a butterfly perspective. Location, sufficient moisture for the plant to produce nectar and plenty of sun when the flowers appear is probably most important. 3 years ago, B. 'Pink Delight' seemed to be the clear winner because my stock plant had huge panicles of flower just at the time that weather started to improve (remember 2012 – poor summer).
Martin Young
Dorset Butterfly Conservation
Nectar Plants 2016
How many times have people rung up me and said "I must have B. 'Orchid Beauty' because it's the best Buddleja in the world for attracting butterflies". All this because someone with a clipboard at a trial saw 3 tortoiseshell more on that plant than on B. 'White Wings' etc.
My personal view is that it is only B. davidii and its close relatives i.e. B. x weyeriana etc. that are any good for attracting large number of butterflies, most species or derivatives are no good because
they are the wrong design or
they flower at the wrong time of year
or both!
Have you ever seen a B. lindleyana or B.colvilei covered in tortoiseshells?
If you push me on colours I would say that paler colours are maybe 10-15% more attractive to butterflies i.e. lilac white, pale pink but also some dark blues.
To be honest any railway line plant is as good as attracting them as any other. Particular good ones in the Nursery are B. 'White Profusion', B. 'Castle school', B. 'Shire Blue', B. 'Lilac Moon', B. 'Persephone' and B. 'Summerhouse Blue'.
B. x weyeriana is also good plants because they naturally flower in late summer and are liked by bees too. B. x weyeriana 'Pink Pagoda' is one of the better ones for attracting Butterflies.
Also I have rarely seen any insects on B. 'Miss Ruby' or B. 'Buzz' Red'.  I would be interested to know if anyone has had different results.
Andrew Bullock Lavender Garden
Butterflies 2016
In the photo gallery below
Some truly amazing photos  of butterflies and moths taken by Brian Cartwright  at Longstock Buddleja Collection  Summer  2019 and Richard Loader in  Summer 2018
video of the National Collection a