History of the National Collection of Buddleja
In 1993 Peter Bramley, head gardener for 33 years who retired in 1999, was asked by the house manager if the bed by the Summer House of old shrub roses including R. 'Canary Bird' could be replanted as they were not providing enough of a screen between the tennis court and the nursery.
Following discussions with David Stuart, the then Garden Manager, the idea for Buddleja arose, a genus not liked by rabbits or deer.
The bed by the summer house always known as the old 'Bone Bed' was used. No one is sure who created the shape which was present before Peter arrived at the garden.
With the help of the recently published Plant Finder, contact was made to several nurseries specializing in Buddleja.
Over the next two years 70 different cultivars were obtained. Along with the hardy Buddleja, a collection of tender species were started. Plants or cuttings were kindly given by Paignton Zoo, Cambridge Botanic Gardens, Greenways Gardens and Hillier Gardens and purchased from Pleasant View Nursery at Newton Abbott.
The Plant Heritage database recorded that over the years plants and cuttings have come from 50 different sources: nurseries, botanical gardens and private collectors in the UK, Europe & USA.
According to the original Plant Heritage letter, the collection was seriously started in spring 1994 and was awarded full status 6th February 1998.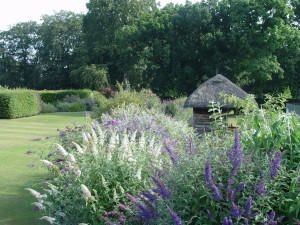 By 2005
When Peter Moore became Keeper of the National Collection of Buddleja in 2005, the plants by the summer house had become no more than an overgrown closely planted hedge and many of the labels had been lost.
It was decided to replant the best of the B.davidii cultivars in a new display within the nursery gardens with half of the plants in the original border being removed.
Keeping the hardy species as a framework to the collection, by the side of the Clematis Arch three 25m beds were created.
Prior to this 12 large quince trees under planted with wild crocus grew (see photo), also note the beech hedge. This was originally 3m high and was reduced to 1.5m giving far more light and views across the Park.
In 2016 there will be a display of some of the dwarf hybrids, more suitable for pot culture.
Spring 2016 there are now 164 different Buddleja in the collection.